If the past 16 months could be summed up in one word, it might be 'contactless.' Due to the power of technology we have managed to adapt to a new normal with minimal physical interactions and smooth digital experiences. Many business processes had to transform within the sport organization world to keep up with this contactless way of functioning. One of these being the shift to utilizing digital wallets to house membership cards. In this article, we overview how our clients are using digital membership cards, and why we think it will be the new standard for sport organizations.
The Rise of Digital Wallets
Digital Wallets are estimated to have almost 1 billion daily active users, which account for 12% of the global population and are expected to increase over the next 3 years. Considering the shift to remote working and training, and the coinciding need for streamlined workflows, the overall trend to digital wallets is not surprising.
At Interpodia, we understand both the need of the athlete to have a smooth experience and the organization to have streamlined workflows. This is why in November of 2019, we announced a new feature that enabled our organizations to offer digital membership cards to their members compatible with their native iOS and Android wallets.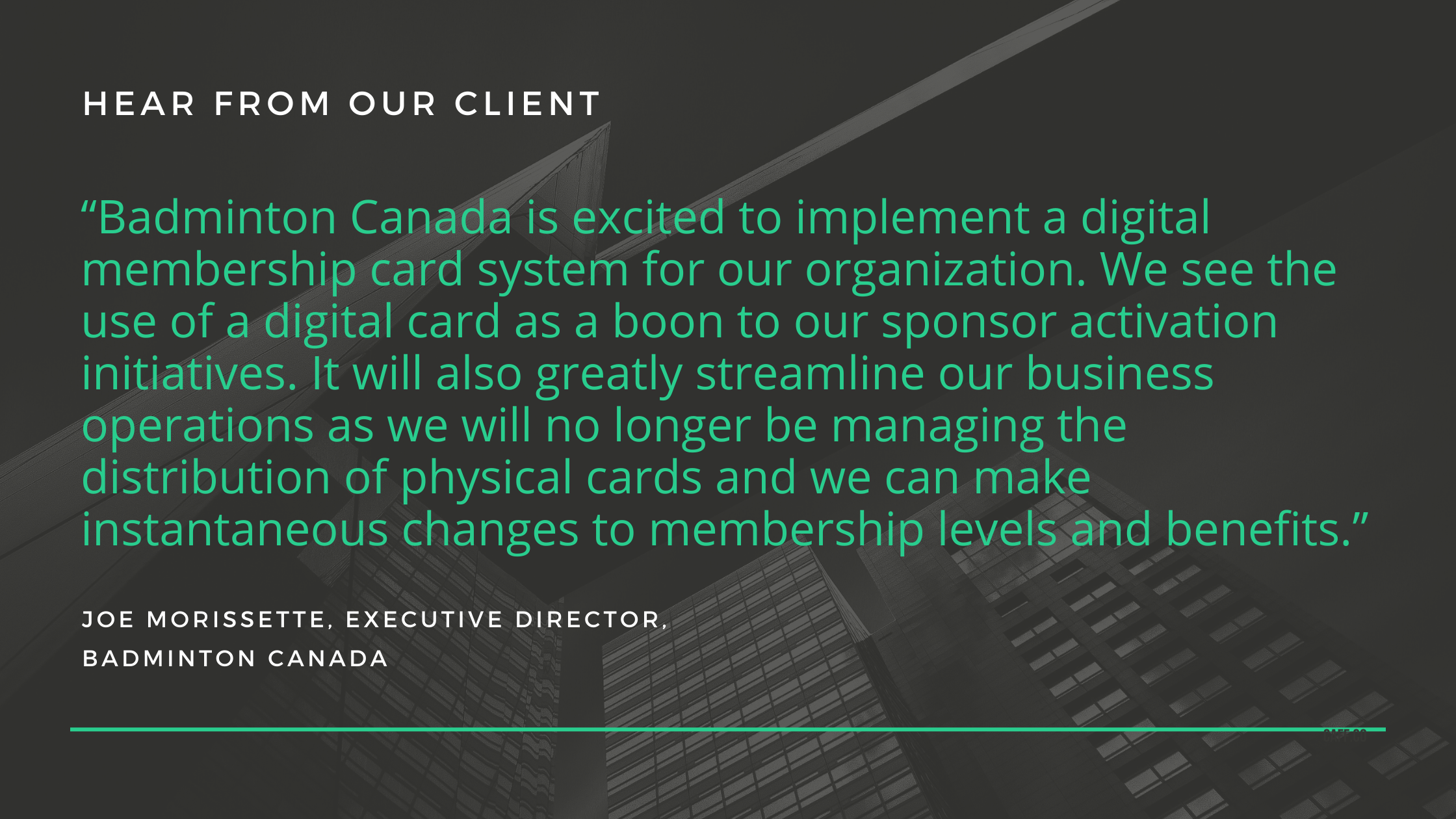 Digging In: The Use Case for Digital Membership Cards
Digital membership cards offer many benefits to members and organizations. Switching to a digital membership card means easy accessibility, and because it is integrated with the sport organization's database, it will always be up-to-date with the latest information and validity. Let's look at the benefits for both athletes/participants and the governing body.
Here are some ways sport organizations can benefit:
· Minimized Physical Contact: Digital cards reduce check-in times and minimize close interactions between officials and athletes to reduce the risk of transmission.
· Environmentally Friendly: Organizations no longer need to print physical cards, so they can cut down on the use of resources as well as their carbon footprint.
· Easy Membership Renewal for Coaches and Officials: In our busy lives, it's easy to let memberships lapse without our knowledge. The digital format allows coaches and officials to renew virtually in real-time, so they never have to deal with downtime.
· Reduced Administration Time: The digital card means organizations no longer need to spend time building a federation-specific app or reprinting cards if details change or renewals are necessary.
· Featuring Sponsorship Logos & Perks:
In addition to displaying important information, the digital wallet cards can include links to help members access other resources or even member benefits. While sponsor logos can not be added to Google or Apple cards, they can be added to PDF digital cards.·
· Easy Photo Upload During Registration and Renewal: The system can be set up to allow the registrant to upload a photo during or after registration. Administrators can set the system to require photo approval and use an interface to crop, rotate, approve or deny the photo and send out an email requesting a new photo. Renewing registrants can choose from previous photos to help streamline the renewal process.
· Displays Safe Sport Comprehensive Data: The digital cards can display all sorts of data including confirmation there has been a completed/ signed waiver or COVID attestation. The digital card can be set up specific to each organization and display the necessary information such as confirmation of valid background screening records, certification levels, status, ability group affiliated clubs or teams.
· Barcode and QR codes
Most organizations using Interpodia platforms issue each member or license holder with a unique ID or membership number. A popular feature of digital cards is to include a unique barcode or QR code that allows any scanning tool to read the membership/license number. Organizations sometimes utilize this with check-in or onsite registration.
---
Key Benefits for Athletes and Participants:
Members and athletes benefit from digital membership cards in several ways. The most notable may be the terrific user experience registration provides.The registration process is simple. After registering, they will receive a confirmation email with their membership number.
From there, they will choose to either:
A) Download a PDF version of the card
B) Add the digital membership to their smartphone's native wallet app
C) All of the above
Once added to a digital wallet, if any of the displayed information changes the card will be updated automatically.
Here are some other ways athletes benefit from using the card.
· Easy Accessibility and Hard to Lose: With the card stored on the member's smartphones, they will always have access to it and it will be almost impossible to lose.
· Compatible with Google Pay and Apple Wallet: The digital cards are compatible with Google Pay and Apple Wallet so payments can be made at the member's convenience.
· Easy Access to Partner Discounts: Organizations can use cards to link members to partner discounts.
· Appeals to a Younger Demographic of Athletes: Athletes are typically young and consist of a demographic that finds technology appealing. They will enjoy the card's digital format and the convenience it provides.
What happens when you are dealing with a member or registrant who does not have their phone or did not download their card?
An organization administrator can grant permission to specific people to give them access to a mobile interface that provides them the ability to search and lookup membership or license records including viewing the membership card and other specific records. The organizations can decide exactly which data is surfaced in the lookup and often an organization has multiple types of lookup that are for different groups, such as club administrators, officials, other federations, etc.
Currently, the feature is available on all Interpodia's Sport Specific platforms including CCN, 2M, HorseReg, CheerReg, SnowReg, H2OReg, PlayerWeb, and IceReg. If you are a current client and would like to access this feature, talk to your representative or email us at sales@interpodia.com.
If you are interested in learning more about our technology, we are currently offering free consultations with our leadership team. We would love to schedule a chat to see if we are a good fit for your organization's unique needs.
We are Always Innovating
This feature came to life after a long-time client mentioned this on their wish list of features. After some running viability tests, we determined it was doable and a great way to bring an added level of convenience to our services. At Interpodia, we listen first then collaborate with our teams on solutions. We are happy to invest our technology to release new features that unlock limitations for our clients. Head to our website and sign up for our newsletter to get updates on each new feature launch.